92nd Assault Helicopter Company

REUNION 2005

OCTOBER 14-15-16

                          AFTER ACTION REPORT

When I began planning this reunion, I had two goals that I wanted to reach.  #1 - Provide an atmosphere where old friendships could be renewed and new friendships established.  #2 - Affordable for all members.  Happily, I can report that both goals were met!! 

Members began to arrive in Manitou Springs as early as Thursday, October 13, 2005.  Some of the golfers played their first rounds at Ft. Carson on Friday morning.  The first "official" gathering was at the Silver Saddle Motel at 4:00PM, Friday, October 14, 2005 for a cookout around the swimming pool.  Local volunteers donated themselves and their time to grill the homemade Polish Sausage and serve all the donated food.  In addition, we had a donated Coors Beer Wagon with both alcoholic and non-alcoholic beverages available to all.  The cookout ended at 6:00PM and everyone was free to mingle with each other and do whatever they desired.

This was a great start to a memorable weekend!!

The bulk of Saturday was free for everyone to gather and do as they pleased.  A "media center" was set up at the Skyway Inn to allow people to view photos, slides, 8mm films, or videos and make copies if requested.  At 4:15PM  a schoolbus made its first trip from the Skyway Inn and Silver Saddle to the Garden of the Gods Trading Post and provided shuttle to get everyone there by 5:00PM.  Two group photos were taken in the trading post garden.  The first was with members and wives, the second with members only.      

At 6:00PM a multimedia memorial presentation was made in honor of our lost brothers.  We will never forget them!  It was a beautiful and very moving time for all in attendance.

At 6:15PM the catered barbeque buffet began.  Food was in abundance and wonderful fellowship was in full force.  In the background, photos provided by 92nd AHC members were continuously projected on a large screen while appropriately matched music was played in the background.  Again, this was a continuation of the friendships that we all formed, both past and present.  8:00PM was the witching hour and everyone was transported back to the motels.  Free time began and all were left to do their own thing.

Sunday morning, 9:00 AM, Oct 15, breakfast was served at Uncle Sam's Pancake House.  We took over more than half the restaurant and the food was excellent. This provided all of us one last time to be together as a whole.  Goal #1 was definitely achieved!!

Most members left later that day, but some stayed a day or two more to get in a little siteseeing. 

It was  really hard to say "goodbye", but the brotherhood that we shared was beyond description.  Thanks to all of you who made this event so wonderful!  I certainly hope that those who were unable to attend will have an opportunity in the future to experience the "Spirit of Manitou"!!   

Your host and brother,

Jim Koch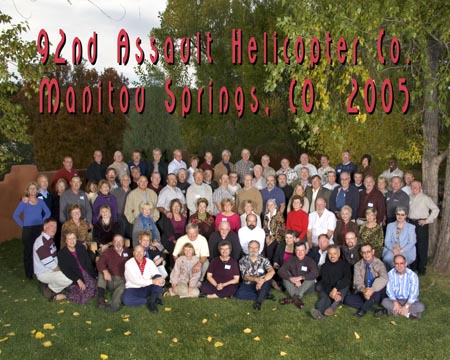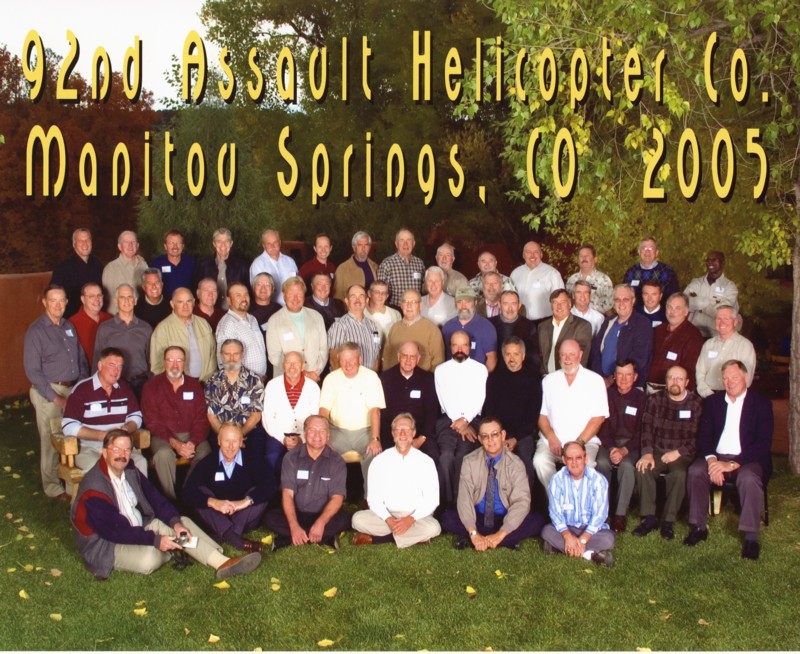 Row 1. (L to R)  Carl Peters, Mike Young, Chuck McDonough, Mike Morrissey, Bobby Stewart, Roger Hammontree

Row 2.  Ron Henning, Dennis Klein, Dennis Renison, Don Hampton, Mike Fleming, Fred Close, Don Parks, Rich Balsimo, Jim Heyn, Bob Fussell, Jim Koch, Don Murphy

Row 3. Bill Robie, Rich Savage, Terry Smith, Frank Perez, Dave Skoog, John Tucker, Dave Sherrard, Bill Cecchin, Jim Broderick, Greg Hornsby, Art Stockman, Kent Mitchell, Bill Graves

Row 4.  Harold Stewart, Mike Hankey, Harold Nobles, Rich Sale, Bob Donnell, Joe Baggett, Fred Harms, Gordy Henson, Don Pond, John Boyd

Row 5.  Rich Ingalls, Roy Gilmore, Don Amundson, Bob Kendrick, Steve Morowczynski, Bob Vassey, Willie Pate, Paul Jeremiassen, Harry Broussard, Steve Mandel, Bob Shipp, Tom Tucker, Brian Mahoney, Joe Reed

Unfortunate missing members in other photos.  Joe Calaway, Bob Herndon, Bob James, Bill Nicholson, Dick Snow